2022 Nissan Frontier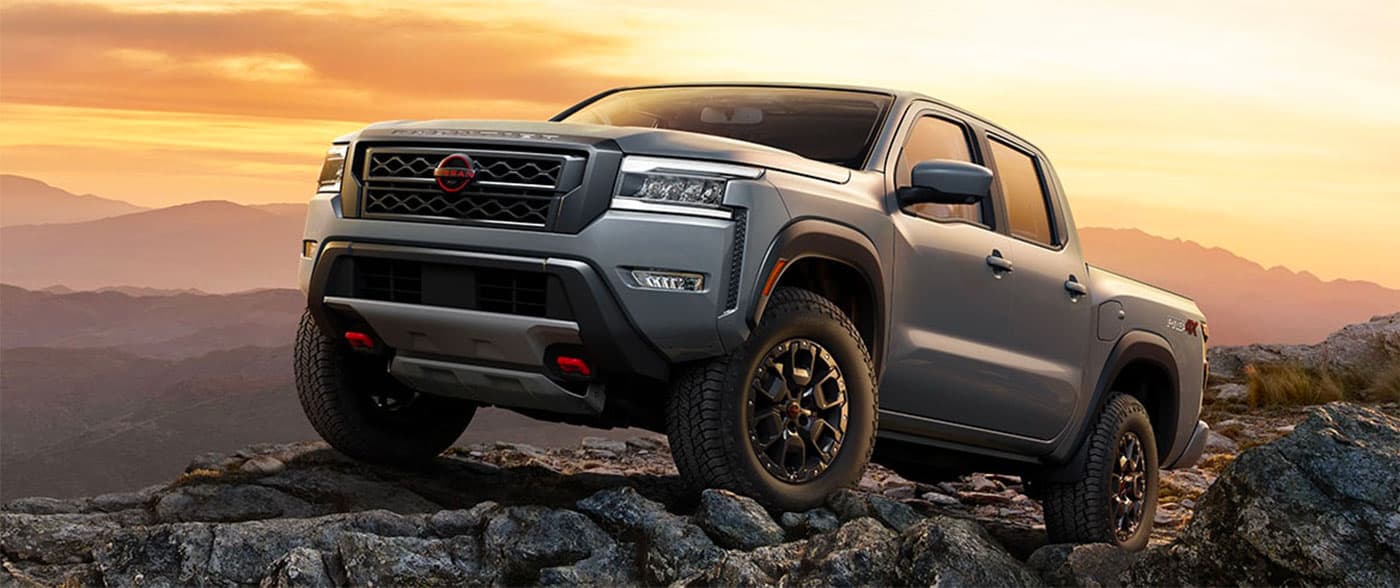 2022 FRONTIER KING-CAB S 4X4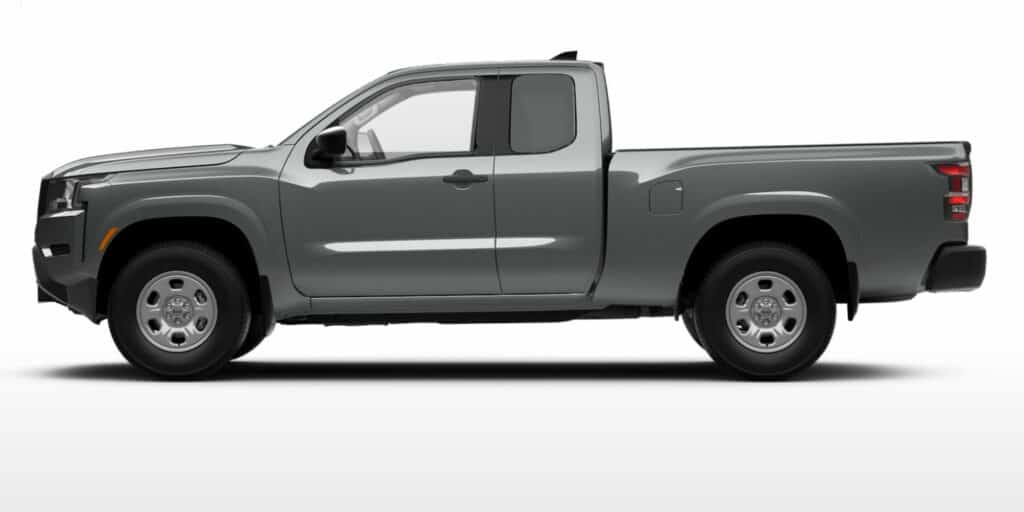 Lease for
$118/week.
plus HST
for 64 mos w/$0 down
Finance for
$154/week.
for 84 months
Buy for
$42,183.00
plus HST
2022 FRONTIER CREW PRO4X LUXURY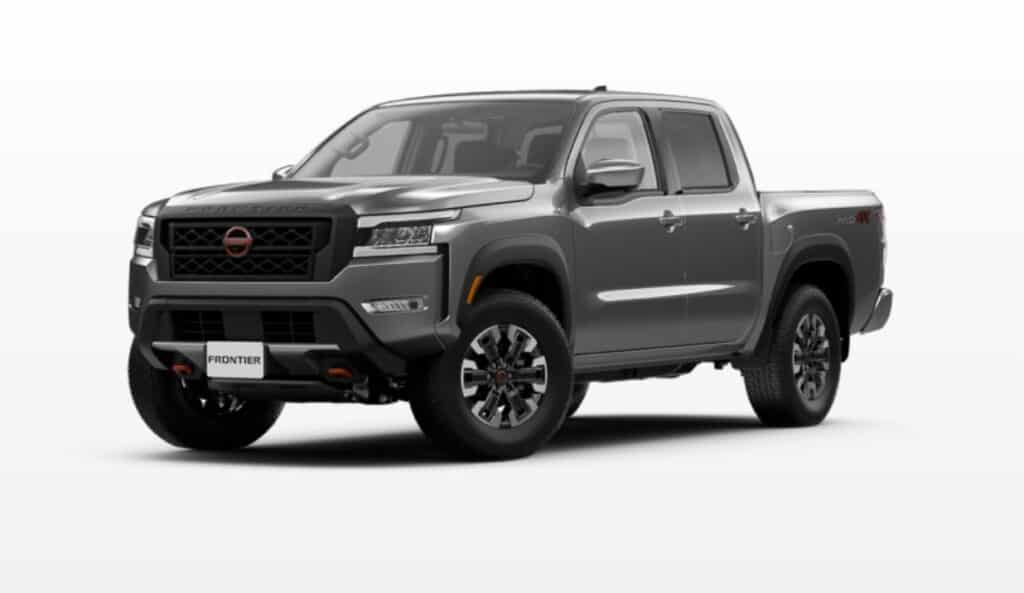 Lease for
$137/week.
plus HST
for 64 mos w/$0 down
Finance for
$193/week.
for 84 months
Buy for
$51,683.00
plus HST
Buying a Car: The Differences Between Leasing and Financing?
Buying a new vehicle is usually expensive, so we will help you decide on a method that will be affordable for you. There are two methods of buying a car that you can use; a lease vs loan. Both methods have their advantages and disadvantages, and we unpack them here for you to use when you decide to buy a new vehicle.
What is a Lease?
Leasing is similar to renting a car, but for more than a month, usually between 24 or 36 months. Although it can be for any number of months. Instead of paying off the car, you only pay for the amount of depreciation that is expected to occur during a set period of time. You normally, but not always, are expected to put down a deposit on a leased car.
What is Capitalized Cost?
This is the ultimate price of the car. This price is normally fixed but you can still negotiate it downward with many dealerships. A lower cap cost means you'll be paying lower monthly installments. You can also get cap cost reductions which are special lease deals from automakers.
What is Residual Value?
The residual value is the estimated value of a car at the end of its lease term or useful life. The residual value (also called salvage value) is the predicted value of what a car is worth at the end of the lease agreement. The lessor uses the residual value to understand the number of monthly payments the lessee will make during the life of the lease period. It is generally accepted that longer lease terms have lower residual values.
Benefits of Leasing
Your monthly lease payments and overall monthly cost may be lower than a traditional financing loan
You don't have to go through the hassle of selling the vehicle once your lease is up
The contract terms for leasing are typically shorter than a car loan
You have the ability to turn the vehicle in at lease end and get a new vehicle
Cons of Leasing a Vehicle
You don't own the vehicle • There are annual mileage limitations
There may be a penalty if you terminate the lease contract early
A lease agreement is a binding contract
A lease agreement, once signed, becomes a legally binding agreement between you and the car leasing company. In return for the use of the car for a specific period, you agree to make a monthly payment. If you break that contract by failing to make a payment, you're expected to return the car.
What is Traditional Vehicle Financing?
Traditional vehicle financing gets you behind the wheel of a new or used vehicle and requires you to make payments to eventually own the vehicle. When the car is fully paid off, you'll own it and be able to retain the vehicle's remaining equity towards the purchase of a new vehicle. What happens if you finish paying off the vehicle and still love it? You can choose to continue owning the vehicle to take advantage of lower ownership costs by not having to pay monthly lease or finance payments
Benefits of Financing
Once the vehicle has been paid off you own it
Unlike a lease, you don't have to return the car
You can drive as much as you want; no mileage restrictions
Once your car is paid off you can use it as an upfront payment
You can sell your car privately
You can customize the vehicle with no restrictions at lease turn-in
You won't have to make payments when the loan is paid off
Financing is easier than leasing
Refinancing a vehicle loan can save you money
You decide if you want to fix the vehicle or not
Cons of a Vehicle Loan
As with any loan, there will be an interest rate where you will have to pay interest
After paying off the car, there could be increased maintenance costs due to the age of the car
You Own the Car
By purchasing a car through financing, you will own it as soon as it is paid off. While you're still paying for the car the bank owns the car title until you pay it off, but there are typically no restrictions on what you can or cannot do with your car. Plus, your ownership grows slowly at first, but increases as the interest declines. The best way to maintain positive equity is to make a sizable down payment and get the shortest loan term you can afford.
There's No Mileage Cap
One of the biggest benefits of financing your car is you don't have to worry about a mileage cap. Beyond the costs of fuel and maintenance, there is no financial penalty for driving long distances.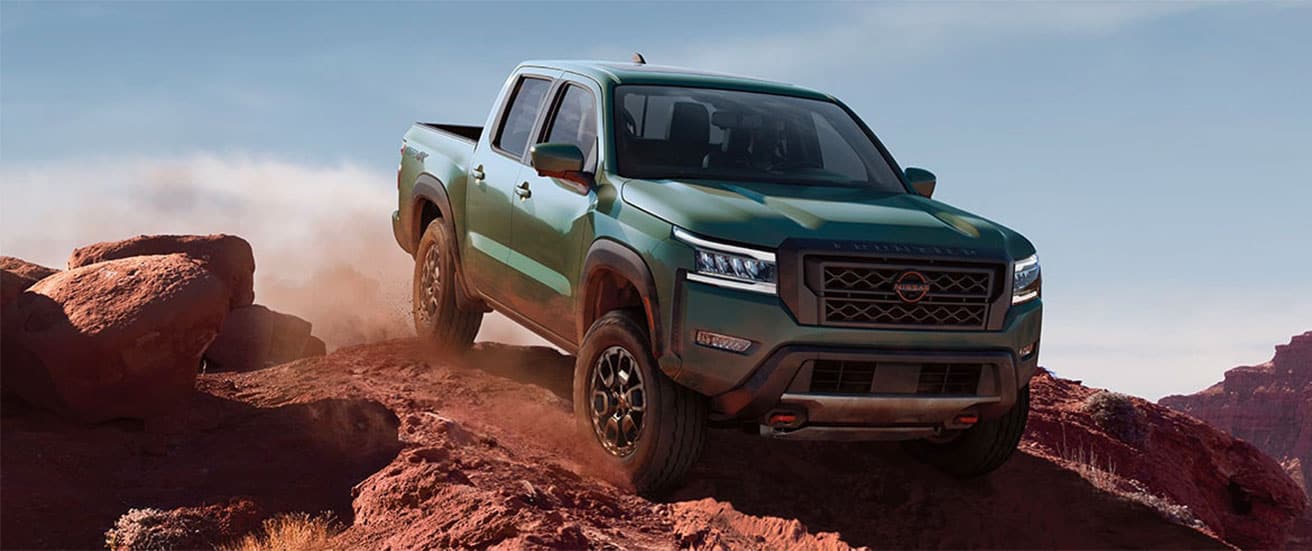 Frontier
How much does the 2022 Frontier cost?
The new 2022 Frontier starts at $39,998 beginning with the King Cab S trim level. The Frontier comes in 7 trim levels up to the Crew Cab Pro-4X trim which starts at $47,498. Completely redesigned, the all-new Frontier has the tech and the rugged durability to take your adventure to new heights.
Performance
When it's time to haul a full load, tow your PWCs, or hit the trails, Frontier is ready. That's because it offers a best-in-class 310-horsepower V6, and one smooth 9-speed automatic, producing 281 lb-ft of torque. Direct injection enables a quick response, and a max towing capacity of up to 6,490 lbs. It's also capable of great fuel efficiency, reaching up to 13.7 L/100 km in the city, and 10.6 on the highway. The Frontier is built up and reinforced in all the right places, with ample ground clearance to climb over big obstacles, and suspension designed to smooth out even the toughest terrain. From the selectable 4WD to standard Hill Descent Control, Frontier boasts some serious off-roading credentials. And with new innovations like the available Intelligent Around View® Monitor with Off-Road Mode, you'll be more than ready any journey. Frontier additionally features Hill Descent Control, Hill Start Assist, Active Brake Limited Slip, Real-Time Tire Monitor, and Off-Road Guages. Take off-roading seriously with Frontier Pro-4X which comes with Bilstein shocks, off-road tires, 3 skid plates, and electronic locking rear differential.
Payload and Towing
The Frontier has a max towing rating of up to 6,490 lbs and a maximum payload of up to 1,430 lbs. That opens up a whole world of towing possibilities. Towing used to be an intimidating task. Now it's D.I.Y. and simple, thanks to the all-new Frontier's smart towing tech. It includes multiple features that help you tow more confidently, safely, and ultimately, more often. Line up your towing hitch with ease and confidence using Frontier's Intelligent Around® View Monitor. Trailer Sway Control can help keep a camper or trailer in line, whether it's crosswinds or bad roads. Tow-Haul Mode with Downhill Speed Control helps reduce hunting for gears for smoother, more confident towing. Get your Frontier ready to tow with a heavy-duty, frame-mounted Class IV hitch receiver. The weight-distributing hitch ball mount can help even things out for a safer ride when towing heavy loads. Rated for towing up to 5,000 lbs., the Class III hitch ball mount connects to the tow hitch receiver for hitch ball mounting. Frontier's available bed-mounted 120-volt AC power outlet gives you the flexibility of a household power plug for electricity on the go. Frontier's tailgate doesn't go "thud." Instead, its lift assist allows for smoother, more controlled motion. Whether you're tying down dirt bikes, building materials, or simply had a big day at the department store, the all-new Frontier has a bed that's built to last and ready to secure your cargo with ease.
Interior and Cargo
The all-new Frontier represents the dawn of a new era for midsize trucks, bringing more comfort, utility, durability, and intelligent features to this segment than ever. Frontier King Cab gives you the flexibility of rear-swinging pillarless rear doors, which provide a huge opening for larger cargo. With the Frontier Crew Cab, you get seating for five with forward-hinged doors that allow for easy entry. Plus, it comes with a 60/40-split rear bench that folds to create a large, flat surface for cargo. Experience next-level comfort, made possible by cutting-edge Zero Gravity seating. You don't have to feel the biting cold on those winter mornings, with Frontier's available heated seats and steering wheel. Other features include available power sliding moonroof, remote engine start system, dual zone automatic temperature control, heated seats/mirrors/steering wheel, and acoustic glass and sound absorption.
Connectivity
Frontier's new available NissanConnect® 9-inch colour touchscreen display invites you tap, swipe, pinch and zoom to your heart's content, with visual clarity and responsiveness you've never seen before in a Frontier. Inside the all-new Frontier you'll have no less than the latest in seamless smartphone integration, so you can import your music, messaging, and maps for a personalized experience. Including Apple Carplay, Android Auto, and Nissan Connect services. Frontier offers wireless charging, USB and USB-C support, and an available 120-V outlet. Your playlist never sounded this good. Frontier's available 10-speaker Fender® Premium Audio System, including a dual subwoofer enclosure, lets you hear your tunes with the clarity and richness they deserve
Safety and Driver Assist
The all-new Frontier backs you up with some of the most advanced standard safety and driver-assist features you'll find in a midsize truck, with cutting-edge technology that helps you avoid accidents and drive with more peace of mind. The safety shield 360 features will help keep you and your passenger's safe. These include Intelligent Emergency Braking with Pedestrian Detection, Rear Automatic Braking, Blind Spot Warning, Rear Cross Traffic Alert, Lane Departure Warning, and High Beam Assist. Make every drive safer and more enjoyable with Frontier's standard driver-assist features, which use smart technology to give you more peace of mind on the road. These include Intelligent Cruise Control, Intelligent Forward Collision Warning, Around View Monitor, Traffic Sign Recognition, and Tire Pressure Monitoring. Other advanced safety features include 8 standard air bags, anti-lock braking system, vehicle dynamic control, crumple zone construction, and the Latch and Snug Kids safety system.